The Arts at First Presbyterian Concert Series began in 2001 as an opportunity for church members to invite their friends and neighbors to quality artistic events. Over the years the series has featured professional choirs such as the Lyric Consort and Robert Dale Chorale, Simple Gifts folk duo, violinist Sophie Till, pianist Ron Stabinsky, Mock Turtle Marionette Theater, Presbybop Jazz Quartet, organist Mark Laubach, and many others.

All concerts are held at First Presbyterian Church, 300 School Street, Clarks Summit. Concerts are open to the public and are free of charge, but a free-will offering is taken to help defray the costs of the event.
2018-19 Arts at First Presbyterian concert series
---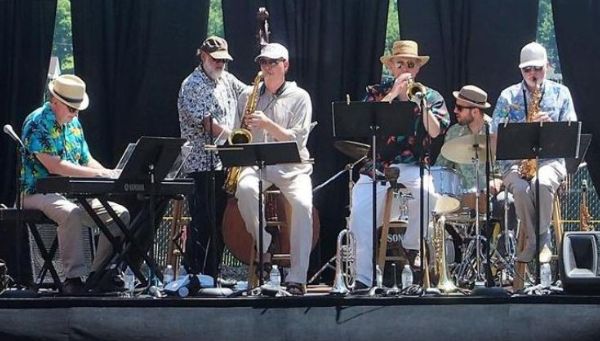 Sunday, April 7, 2019 4:00 pm
Finger Painting: Jazz of Herbie Hancock Bill Carter and the Presbybop Sextet
Bill Carter, our resident jazz pianist, gathers a consort of musicians for an afternoon of the extraordinary music of Herbie Hancock. The rich harmonies, funky rhythms, and memorable melodies of Hancock's tunes will be interpreted by trumpeter Jeff Stockham, Tom Hamilton on sax, trombonist Andrew Williams, drummer Tyler Dempsey, and Joe Michaels on bass. Don't miss this homage to one of the world's greatest composers.
The 2018-19 Arts Series calendar:
Sunday, October 28, 2018, 4:00 pm - Arcadia Chorale in a concert entitled "Love Songs"
Sunday, November 11, 2018 4:00 pm - All-church recital, featuring the choirs of the First Presbyterian Church and friends.
February 15-17, 2019 Clarks Summit Ice Festival Events: Art Show, Chili Cafe, Creative and Performing Arts Academy of NEPA performers, Mark Woodyatt, Student Musicians
Sunday, March 10, 2019, 4:00 pm - Poor Man's Gambit, a Celtic group
Sunday, April 7, 2019, 4:00 pm - Presbybop Sextet: Music of Herbie Hancock
Sunday, May 19, 2019, 4:00 pm - Classical Music with John Michael Vaida
View the 2018-2019 Series Brochure
We thank all of our volunteers and supporters
Without your help, the Arts program would not be possible
The series is supported in part by grants from the Pennsylvania Council on the Arts, a state agency funded by the Commonwealth of Pennsylvania and the National Endowment for the Arts, a federal agency. The season is also generously supported by a Lackawanna County Community Arts and Culture Grant, a program of Lackawanna County Commissioners Patrick M. O'Malley, Jerry Notarianni, and Laureen A. Cummings, and by private contributions. We thank them for their support. There is no admission charge for these events, but free-will offerings are generally taken. For more information, call the church office at 570-586-6306, or check out our brochure.