Wednesday Adults and Youth Christian Education - W.A.Y.
Beginning September 11, 2019
Jesus said: "I am the Way, the Truth and The Life.
Our Wednesday evening programs are the foundations of the Christian Education and Music programs at the First Presbyterian Church.
Every Wednesday evening from September until late May, we offer Christian Education classes and choir programs for all ages - children, youth, and adults.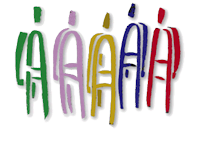 On each Wednesday during the church year, we gather at 6:15 pm to begin our programs, and then we split into various age groups, as shown below. For those who want to gather earlier we provide food and drink beginning at 5:00 to get you through the evening.
(Reservations (570-586-6306) are needed for the supper, but no reservations are required for the programs.)
Chapel Choir (grades K-6) begins at 5:30, under the direction of our organist, Kay Ten Eyck
All Christian Education classes begin at 6:15 pm
Adult choir rehearsal begins at 7:15 pm. This choir welcomes young adults and older teens who love to sing.
The handbell choir begins at 8:30 pm.
Classes

Spark (Newborn - Up to 4 years old) A nurturing class for our youngest learners, our nursery class will hear Bible stories, sing songs, play, and participate in activities appropriate to their age.
Grace & Faith (4 year old - Grade 5) Young people will experience Bible stories through our curriculum Growing in Grace & Gratitude. This winter we will hear messages of hope and comfort as we welcome Jesus - first as a baby, then as teacher and savior. In January, we will learn how God Protects Jesus' Family, that John Baptizes Jesus, that we can be Fishers of People, and that You are Blessed.
We Believe (Grades 6 and older) - This winter, students will go back to the beginning by exploring the Old Testament. We'll continue to discover the history and richness of the Bible as we discuss, ask questions. and did deeper into familiar stories. In December, we will explore the Law and Judges.
PresbyYouth (Grades 9-12 and college-age adults) are encouraged to either join an adult class or participate in the middle school class.
Adults:

For February, we offer an introduction to a profound thinker who wove together justice and spirituality. Howard Thurman (1899 -1981) served as the dean of Marsh Chapel at Boston University, and was the co-founder of the first inter-racial and inter-denominational church in the nation. When Martin Luther King Jr. led the march at Selma, he carried Thurman's book Jesus and the Disinherited with him. Come and discover the words and deeds of this remarkable man. (Room 206)
Chapel Choir (5:30 - 6:10 pm) - . This is our youth choir for children from Kindergarten through grade 6. In the choir, children begin to learn about church music and the role of music in worship while learning basics of choral singing, in a fun and age-appropriate setting. All children are welcome; they need not be members of the church to participate.
Alleluia Choir (Alternate Thursdays begining Sept 14 at 6:30) - This is our middle and high school choir.
Adult Choir - (7:15 - 8:30 pm) Our adult choir, which includes teens above grade 7, is the primary choir, supporting our worship and other events and activities. It is open to all who are interested in worhiping God with music. There are no tryouts or auditions.
Handbell Choir- (8:30 - 9:15 pm) The handbell choir features a 3½ octave set of Malmark bells, choirchimes, and joins in worship about every six weeks.