Christian Education
We at First Presbyterian Church value our Christian Education programs. With the coronavirus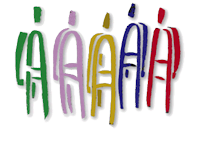 pandemic, our programs will take on a new look.
"Wednesday Adults and Youth Christian Education - W.A.Y." While the W.A.Y. program is not in full force, we still have educational offerings available.
Wednesday Evening Bible Study
Advent Through the Eyes of Those Who Waited: Rev. Carter will lead us through some of the traditional scripture texts for the season. December 2nd through 23rd at 7:00 pm. Study material will be available on each week's The LIght from the Hill.
Join us on Zoom.


Youth Activities
Grace & Faith: Children age 4 to grade 5 will have a weekly lesson from our Growing in Grace & Gratitude curriculum. We will post a short video, downloadable worksheets, and more at fpccsway-grace.blogspot.com for you to enjoy whenever fits best in your schedule.
We Believe: Youth grade 6 and up can visit fpccsway-believe.blogspot.com for a weekly post featuring a Bible passage, reflection, and questions to ponder.