Welcome! We are glad you visited our online home.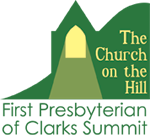 Welcome to the online home of First Presbyterian Church of Clarks Summit, PA – "The Church On the Hill." We are glad you have found the website of this lively, loving and faithful congregation. We invite you to click through our pages and discover why so many thoughtful Christians in our region make this church their spiritual home.
We are a congregation of the Presbyterian Church (USA) and have more than 500 members. Each week about 200 people attend worship and education, which makes us one of the largest Presbyterian congregations in Northeastern Pennsylvania.

We welcome all people to our church family. Check out our "how to join" page for more information.
Hot topics ...

Pledge on-line is now available at the Church on the Hill. See the big green button above.
The next event in the Arts at First Presbyterian is the All-Choir concert on November 23. See below for details.
Wednesday Adult and Youth (W.A.Y.) began on September 10. Join us in Fellowship Hall for a light meal at 5:15, followed by our Christian Education programs for adults and youth.
Subscribe now to our weekly e-mail newsletter.
The Church on the Hill has many activities for all. If you're into music, if you want to provide support for others, if you want to enrich your Christian life, or if you just want to get out and meet people with similar interests, we have activities for all. Click here for a list of our activites to enhance your life within our church community.
Our national church's General Assembly met recently in Detroit. Here are a few of the summaries from the meeting, which you may find interesting:
A note for members: The annual meeting of the congregation and corporation was held on Sunday, February 2, 2014. The annual report is available here.
---
Happening in November and beyond ..
November 23 - Arts at First Presbyterian brings you the All-Church recital featuring the First Presbyterian Church musical ensembles, at 4:00 pm. Oboist Tom Heinze is the featured guest artist.
December 7 - Holiday Cookie Exchange, at 2:00 pm in Fellowship hall. Bring six dozen cookies to share and swap.
December 7 - We are having the Alternative Gift Market after the 10:00 service during the coffee hour. Beautiful and interesting gifts from SERRV and Verve Vertu, candy from Appalachian Service Project, coffee from the Presbyterian Coffee Project, and practical gifts like food and shelter given in your honor from Heifer Project and Reaching the Pygmies ministry will be featured. There will be hands on projects for children..
Check our Calendar for more upcoming events.