Welcome! We are glad you visited our online home.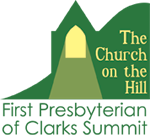 Welcome to the online home of First Presbyterian Church of Clarks Summit, PA – "The Church On the Hill." We are glad you have found the website of this lively, loving and faithful congregation. We invite you to click through our pages and discover why so many thoughtful Christians in our region make this church their spiritual home.
We are a congregation of the Presbyterian Church (USA) and have more than 500 members. Each week about 200 people attend worship and education, which makes us one of the largest Presbyterian congregations in Northeastern Pennsylvania.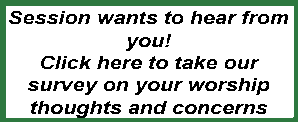 Hot topics ...
Thailand - We have received a letter and prayer request from Leith and Carol Fujii, missionaries in Thailand.

Musicians! Check our music opportunities for the fall. All are welcome.
Don't forget the Camp Lackawanna weekend, August 9-10.
St. Francis soup kitchen has a need for two volunteers to work on the last Tuesday of every month. See the sign-up sheet on the bulletin board.
The Catherine McAuley Center has need for furniture or appliances for families in transition. Contact Sister Susan at 570-342-1342.
Camp Lackawanna, the Presbytery's youth camp and conference, is now accepting applications. See www.presbyCampLackawanna.org for more information. Scholarships are also available from First Presbyterian Church.
The Church on the Hill has many activities for all. If you're into music, if you want to provide support for others, if you want to enrich your Christian life, or if you just want to get out and meet people with similar interests, we have activities for all. Click here for a list of our activites to enhance your life within our church community.
Our national church's General Assembly met last month in Detroit. Here are a few of the summaries from the meeting, which you may find interesting:
A note for members: The annual meeting of the congregation and corporation was held on Sunday, February 2, 2014. The annual report is available here.
---
Happening in August, September and beyond ...
August 9-10 is the all church weekend at Camp Lackawanna.

Saturday will feature intergenerational games and activities followed by a campfire.
Sunday will begin with worship at 10:00 am in the Spann Memorial Chapel.
Also on Sunday, at 11:30 am there will be the Church Picnic with food and drinks provided, and the pool will be open from noon to 2:00.
Reservations may be made for canoeing on Saturday afternoon, overnight camping in cabins or tent sites, and a box dinner on Saturday night.
Reservations will be taken in Fellowship Hall after church, beginning on June 29, through August 3.

Also on August 9, Habitat for Humanity is looking for volunteers to assist with processing a large donation of goods from Home Depot. Contact them at 570-342-7911.
August 13 is the Youth Group's trip to Knoebel's Amusement Park
August 31 is our annual Jazz Communion. Featured will be the music of Horace Silver this year, the great jazz composer who passed away in June.
September 7 is FAll Kick-Off Sunday. Since it is a first Sunday of the month, this will be a Communion Sunday. Woo hoo, the Lord's Supper two weeks in a row!
September 9 - Presbyterian Women's Annual Gathering
September 10 - WAY classes begin again.
September 27 - Camp Lackawanna Golf Tournament, at Shadowbrook.
October 12 - 4:00 pm - The Mending, which is a very special worship experience that is being planned for four Sunday afternoons over the course of the year. Imagine a jazz vespers, a healing service, and the Lord's Supper all rolled into one, open to anybody in our community who wants a richer experience of God.
October 26 - The new season of the Arts at First Presbyterian begins with a bluegrass concert by the Hickory Project, a world-renowned band from Wellsboro.
Check our Calendar for more upcoming events.