Welcome! We are glad you visited our online home.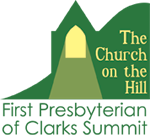 Welcome to the online home of First Presbyterian Church of Clarks Summit, PA – "The Church On the Hill." We are glad you have found the website of this lively, loving and faithful congregation. We invite you to click through our pages and discover why so many thoughtful Christians in our region make this church their spiritual home.
We are a congregation of the Presbyterian Church (USA) and have more than 500 members. Each week about 200 people attend worship and education, which makes us one of the largest Presbyterian congregations in Northeastern Pennsylvania.

We welcome all people to our church family. Check out our "how to join" page for more information.
Hot topics ...
Lent is the forty days leading up to Easter. PCUSA offers a daily Lenten Calendar, as a guide throughout Lent. Also, look at the very special moments we have planned. -more-
March 29th is Palm Sunday. On this special day, we will have two services - at 8:30 am and 10:00 am.

Attention members - There will be a congregational meeting on March 29, immediately following the service to elect the people who have answered God's call to be elders and deacons.
Also on March 29, we will have our next Arts at First Presbyterian event featuring Mark Laubach and Rick Hoffenberg. -more-
One Great Hour of Sharing (OGHS) kicks off in Lent. Our goal this year is $6,000. Please give generously. -more-
Attention youth! On March 27 we are headed to Dickson City Laser Tag for some fun and fellowship. -more-
Presbyterians were in the national news this week. -more-
Also for youth - See the Camp Lackawanna programs for 2015. There are fun programs for all ages and interests. Scholarships are available here. Other scholarships are available as well.
Vacation Bible School dates have been announced - July 13 - 17, 2015. Check out our VBS page.
Did you know that you can use on-line giving for any gift to any program? Click on the big green pledge button and direct your gift to any program. Missions, music, youth programs, OGHS and the Deacon's Fund are just a few of the many programs that can use your gifts.
Souper Bowl Sunday was a super success. We were able to give $405 to the AEM Food Pantry. Thanks to everyone who contributed.
The annual meeting of the congregation and corporation was held on Sunday, February 1, 2015. This year's annual report is available here.
Good news from Haiti! The support from FPC has provided training and seed capital for loans to emerging cooperatives in Haiti. Read the complete report from Groundswell International.
Subscribe now to our weekly e-mail newsletter.
The Church on the Hill has many activities for all. If you're into music, if you want to provide support for others, if you want to enrich your Christian life, or if you just want to get out and meet people with similar interests, we have activities for all. Click here for a list of our activites to enhance your life within our church community.

The Presbyterians were in the national news this week. On March 17, the 86th presbytery ratified a proposed change in the denomination's Book of Order. This change amends the church's constitution, broadening Christian marriage from being between "a man and a woman" to "two people, traditionally a man and a woman." Here is an article in the New York Times on the decision (one of the fairest reports thus far).

As you may expect, Presbyterians are people who hold diverse opinions, but generally we believe it is more important to stay together in our diversity than to sever the Body of Christ. Hence there are many perspectives on this matter within our fellowship, although there is great consensus on the power of love and the importance of lifelong commitment.

Want to talk about this? The pastor's door is always open and he welcomes a conversation, especially if you buy the coffee. There is also an excellent study that the national church put together that is available for download. Feel free to give it a look.
---
Happening in March and beyond ..

March 29 - Brings the next event in the Arts at First Presbyterian Church. We will feature the Marywood Univerity Chamber Singers, and piano-organ duets with Mark Laubach and Rick Hoffenberg.
April 7 is the date for this year's State Hospital Luncheon.
April 11 is our next Adopt-a-Highway clean-up day.
April 24 is Faith Day at the Railrider Stadium. Take yourself out to the ball game, enjoy the peanuts and Cracker Jacks, and the join us to see the Railriders play the Pawtucket Red Sox.
We invite you to worship with us through the forty days leading up to Easter (April 5). Here are some of the very special moments that we are planning
Sunday, March 1 at 10:00 a.m. - Psalm Festival with special guest Beth Tanner, professor of Old Testament at New Brunswick Theological Seminary.
Sunday, March 8 at 4:00 p.m. - The Mending: a service of healing with a jazz beat. This month's theme: "Blues for Lent".
Palm Sunday, March 29 at 8:30 and 10:00 a.m. - Palm Sunday celebration, marking the beginning of Holy Week.
On April 1, the theme of our classes will be Walking through Holy Week. The events will start at 6:00 pm, withour customary light supper at 5:15.
Maundy Thursday, April 2 at 7:30 p.m. - A service of Holy Communion and Tenebrae, marking the Last Supper with Jesus.
Good Friday, April 3, at 12:00 noon - Community-wide observance of the Passion of Christ from noon until 1:00 p.m..
Easter Sunday at 8:30 and 10:00 a.m. - We celebrate the Resurrection of Jesus with joyful music and the Lord's Supper
Check our Calendar for more upcoming events.