Welcome! We are glad you visited our online home.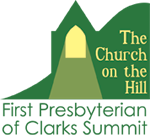 Welcome to the online home of First Presbyterian Church of Clarks Summit, PA – "The Church On the Hill." We are glad you have found the website of this lively, loving and faithful congregation. We invite you to click through our pages and discover why so many thoughtful Christians in our region make this church their spiritual home.
We are a congregation of the Presbyterian Church (USA) and have more than 500 members. Each week about 200 people attend worship and education, which makes us one of the largest Presbyterian congregations in Northeastern Pennsylvania.

We welcome all people to our church family.
Hot topics ...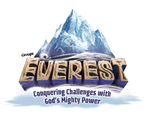 Attention children! Vacation Bible School dates have been announced - July 13 - 17, 2015, and on-line registration is now open. Check out our VBS page.
Also for young people - See the Camp Lackawanna programs for 2015. There are fun programs for all ages and interests. Scholarships are available here. Other scholarships are available as well.
St. Francis Soup Kitchen is accepting gently used men's and women's lightweight clothing. Place your donations in the box in Fellowship Hall.
May 24 is Pentecost. Every year our church collect a special offering for Pentecost that goes to the Presbyterian Mission Agency to benefit children and youth.
On May 29th, all youth are invited to our first Iron Chef competition. -more-
On June 6 join us for a bike ride down the Lehigh Gorge Trail. Contact the church office for information.
On June 7 we confirm three amazing students who have spent their Sunday afternoons learning more about who they are in Christ and what it means to belong to the church. Join us in welcoming and honoring them.
On June 14, we will have our annul parking lot picnic. -more-
On July 27, the Lackawanna Presbytery is planning an outing to the Rail Riders baseball game. If we get 100 people to sign up, some lucky person from the group will get to throw out the first ball.
The Haitian are coming! Between September 2 and 14 many of our friends from Haiti will be in our area. -more- Check out all of our missionaries at our Mission page.
Presbyterians were recently in the national news. -more-
Did you know that you can use on-line giving for any gift to any program? Click on the big green pledge button and direct your gift to any program. Missions, music, youth programs, OGHS and the Deacon's Fund are just a few of the many programs that can use your gifts.
Souper Bowl Sunday was a super success. We were able to give $405 to the AEM Food Pantry. Thanks to everyone who contributed.
The annual meeting of the congregation and corporation was held on Sunday, February 1, 2015. This year's annual report is available here.
Subscribe now to our weekly e-mail newsletter.
The Church on the Hill has many activities for all. If you're into music, if you want to provide support for others, if you want to enrich your Christian life, or if you just want to get out and meet people with similar interests, we have activities for all. Click here for a list of our activites to enhance your life within our church community.

The Presbyterians were in the national news this week. On March 17, the 86th presbytery ratified a proposed change in the denomination's Book of Order. This change amends the church's constitution, broadening Christian marriage from being between "a man and a woman" to "two people, traditionally a man and a woman." Here is an article in the New York Times on the decision (one of the fairest reports thus far).

As you may expect, Presbyterians are people who hold diverse opinions, but generally we believe it is more important to stay together in our diversity than to sever the Body of Christ. Hence there are many perspectives on this matter within our fellowship, although there is great consensus on the power of love and the importance of lifelong commitment.

Want to talk about this? The pastor's door is always open and he welcomes a conversation, especially if you buy the coffee. There is also an excellent study that the national church put together that is available for download. Feel free to give it a look.
---
Happening in June and beyond ..

The all-church Parking Lot Picnic will be held on Sunday, June 14th in Fellowship Hall (and the lower parking lot). Hamburgers, hot dogs, salads, baked beans, beverages, plates & utensils will all be provided. There will be a sign-up sheet in the Narthex for 10 desserts to complete the meal. Come and enjoy this time of fellowship, food and fun – all are welcome!
Check our Calendar for more upcoming events.