Welcome! We are glad you visited our online home.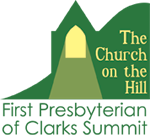 Welcome to the online home of First Presbyterian Church of Clarks Summit, PA – "The Church On the Hill." We are glad you have found the website of this lively, loving and faithful congregation. We invite you to click through our pages and discover why so many thoughtful Christians in our region make this church their spiritual home.
We are a congregation of the Presbyterian Church (USA) and have more than 500 members. Each week about 200 people attend worship and education, which makes us one of the largest Presbyterian congregations in Northeastern Pennsylvania.

Hot topics ...
Vacation Bible School registration is now open! From July 14 - 19, kids from age 4 to 5th grade can discover what Jesus' one-of-a-kind love means in their lives, through a "weird animal" program that will teach and entertain.
One Great Hour of Sharing is an offering that, since 1950, makes the love of Christ real for individuals and communities around the world who suffer the effects of disaster, conflict, or severe economic hardship, and for those who serve them through gifts of money and time. Consider giving using the envelope or online at the OGHS web site.
Speaking of sharing, April is Food Pantry Month. Please bring non-perishable food donations to the Narthex each week in April. Our Deacons will deliver them to the community food pantry in Dalton, where they will be distributed.
Camp Lackawanna, the Presbytery's youth camp and conference, is now accepting applications. See www.presbyCampLackawanna.org for more information. Scholarships are also available from First Presbyterian Church.
The Church on the Hill has many activities for all. If you're into music, if you want to provide support for others, if you want to enrich your Christian life, or if you just want to get out and meet people with similar interests, we have activities for all. Click here for a list of our activites to enhance your life within our church community.
A note for members: The annual meeting of the congregation and corporation was held on Sunday, February 2, 2014. The annual report is available here.
---
Happening in April...
April 25 - 27 - Volunteers can spend a weekend in Brigantine, NJ for Hurricane Sandy clean-up. Contact the office as soon as possible.
April 27 - 1:00 - 3:00 pm - Join us for our youth Choir Camp. Children Kindergarten through 6th grade are invited to join us as the children sing, play games, and learn how to read music. All children are welcome.
April 27 - The Arts at First Presbyterian Church presents "Eco Jazz", with Bill Carter and the Presbybop Quartet, at 4:00 pm at the church.
Beginning on April 27, Rev. Carter will be offering a series of sermons and adult studies on the Heidelberg Catechism. Stay tuned for more information.
... and in May
May 3 - 9:00 am - Join the bell choir for a handbell workshop. If you've always wanted to try ringing bells, this is for you. The first hour or so of the workshop will be aimed at those who have never rung bells, but would like to try. Later in the morning, we will be learning and practicing ringing techniques and reading music. Some experience reading music is desirable. Contact the office if interested.
May 11 - Our next table talk will feature a conversation led by Debbie Shane, an FPC member and an elementary school nurse in the Abington Heights school district. Her topic is "What is going on in our schools?"
May 18 - Installation of Elders and Deacons.
May 31 - Join us on a bicycle trail ride on the Lehigh Gorge Trail. Starting in White Haven, we'll ride the twenty-six miles downhill to Jim Thorpe, were we will eat an early dinner, then hop a shuttle back to White Haven. The cost will be about $20.00 for a shuttle and another $20.00 if you need to rent a bike. Details to come.
Check our Calendar for more upcoming events.