Welcome! We are glad you visited our online home.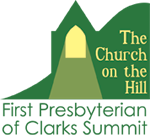 Welcome to the online home of First Presbyterian Church of Clarks Summit, PA – "The Church On the Hill." We are glad you have found the website of this lively, loving and faithful congregation. We invite you to click through our pages and discover why so many thoughtful Christians in our region make this church their spiritual home.
We are a congregation of the Presbyterian Church (USA) and have more than 500 members. Each week about 200 people attend worship and education, which makes us one of the largest Presbyterian congregations in Northeastern Pennsylvania.

Hot topics ...
Thailand - We have received a letter and prayer request from Leith and Carol Fujii, missionaries in Thailand.

Vacation Bible School is here! From July 14 - 18, 9:00 am to noon, kids from age 4 to 5th grade are discovering what Jesus' one-of-a-kind love means in their lives, through a "weird animal" program that will teach and entertain. Volunteers are welcome as well to help with the programs.
The week will conclude with the VBS Carnival at 6:00 - 8:00 on Friday evening, with games, food, prizes and more!
Musicians! Check our music opportunities for the fall. All are welcome.
Looking further ahead, July 27 is Faith Day at the SWB RailRiders game.
Don't forget the Camp Lackawanna weekend, August 9-10.
St. Francis soup kitchen has a need for two volunteers to work on the last Tuesday of every month. See the sign-up sheet on the bulletin board.
The Catherine McAuley Center has need for furniture or appliances for families in transition. Contact Sister Susan at 570-342-1342.
Camp Lackawanna, the Presbytery's youth camp and conference, is now accepting applications. See www.presbyCampLackawanna.org for more information. Scholarships are also available from First Presbyterian Church.
Nurses, paramedics, and EMTs are needed to help with the Camp Lackawanna programs in July. Contact pbylackcamp@aom.com.
The Church on the Hill has many activities for all. If you're into music, if you want to provide support for others, if you want to enrich your Christian life, or if you just want to get out and meet people with similar interests, we have activities for all. Click here for a list of our activites to enhance your life within our church community.
A note for members: The annual meeting of the congregation and corporation was held on Sunday, February 2, 2014. The annual report is available here.
---
Happening in June & July and beyond ...
July 18 is the VBS Carnival, from 6:00 to 8:00.

July 20 is Messy Game Night for our youth.
July 27 is Faith Day at the 1:05 pm game for the SWB RailRiders baseball team, and we're getting together a group from our church to attend the game. A sign-up sheet is in the Narthex. Right now we're just seeing how many people are interested in going to the game. We'll contact you in late June to confirm that you'll be able to attend and to collect $8 per ticket. Join us for this afternoon of fellowship and fun!
August 9-10 is the all church weekend at Camp Lackawanna.

Saturday will feature intergenerational games and activities followed by a campfire.
Sunday will begin with worship at 10:00 am in the Spann Memorial Chapel.
Also on Sunday, at 11:30 am there will be the Church Picnic with food and drinks provided, and the pool will be open from noon to 2:00.
Reservations may be made for canoeing on Saturday afternoon, overnight camping in cabins or tent sites, and a box dinner on Saturday night.
Reservations will be taken in Fellowship Hall after church, beginning on June 29, through August 3.

August 13 is the Youth Group's trip to Knoebel's Amusement Park
September 9 - Presbyterian Women's Annual Gathering
September 10 - WAY classes begin again.
September 27 - Camp Lackawanna Golf Tournament, at Shadowbrook.
Check our Calendar for more upcoming events.