Advent and Christmas at the Church on the Hill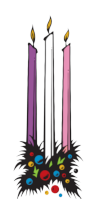 Advent is nearly upon us. At the First Presbyterian Church, we have a varied program of Advent and Christmas worship and outreach opportunities for members and our community.
Daily Advent Devotions - Our online Advent Devotional will go "live" online on Sunday, November 29, the First Sunday of Advent. Each day until December 25, church members and others will offer a brief reflection on the theme of HOPE. You can find the devotional by going to https://adventfpccs.blogspot.com, where you can also sign up for the daily devotion by e-mail.
---
Worship
Please join* us for worship and our other Advent and Christmas activities:
November 29 - First Sunday of Advent - Isaiah 64:1-9 - What Happens When God Is Out of Sight
December 6 - Second Sunday of Advent - Isaiah 40:1-11 - Smoothing the Rough Places
December 13 - Third Sunday of Advent - Isaiah 61:1-4, 8-11 - Repairing the Ruins
December 20 - Fourth Sunday of Advent - Isaiah 11:1-9 - New Life in a Dead Stump
December 21 - Blue Christmas service - 7:00 pm -more information-
December 24 - Christmas Eve - Isaiah 9:2-7

4:00 pm - A service for families, held outside (weather permitting) with singing
8:00 pm - Modified lessons and carols, with soloists, small groups, and instruments. In person and streaming
11:00 pm - Annual jazz service. In person and streaming.

December 27 - Isaiah 61:10-62:3 - All Decked Out. In person and streaming.
---
* All services are live streamed. In person attendance is limited to 50 individuals, and reservations are required. Call the office at 570-586-6306 to make yours.