Welcome! We are glad you visited our online home.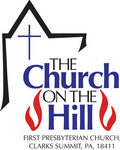 Welcome to the online home of First Presbyterian Church of Clarks Summit, PA – "The Church On the Hill." We are glad you have found the website of this lively, loving and faithful congregation. We invite you to click through our pages and discover why so many thoughtful Christians in our region make this church their spiritual home.
We are a congregation of the Presbyterian Church (USA) and have more than 500 members. Each week about 140 people attend worship and education, which makes us one of the largest Presbyterian congregations in Northeastern Pennsylvania.

We welcome all people to our church family.
Hot topics ...



Vacation Bible School...

is July 10 - 14, 9 am to noon.

Children ages 4 to completed grade 6 are inivited.

Register at vbspro.events/p/fpccs.

Volunteers are always welcome. You can help bring ancient Rome to life by teaching, leading, or preparing. Please contact the church office at 570-586-6306, or e-mail fpccs.vbs@gmail.com

We are adding July as a month to collect for the Abington Food Pantry. Please bring food to share when you come to the church.
July 8 - Join us for a bike ride on the Lehigh Gorge Rail Trail. Ride from White Haven to Jim Thorpe, enjoy the eating and shopping, then shuttle back. Contact the office at 570-586-6306 or office@fpccs.org for details.
July 21 - Join us for an evening of sweet music, as First Presbyterian Church of Clarks Summit offers a free evening concert of classical guitar and flute on Friday, at 7:00 p.m. -more-
Looking further ahead, mark your calendars for September 24, when we will again have Worship Through Service day. Watch the video from last year!
We have much more happening in June and July. -more-
Did you know ?? The church building is available for members and non-members for community and educational purposes. Fees may apply. -more-
Your One Great Hour of Sharing gift enables the church to share God's love with our neighbors in need around the world. We raised $5,102 this year. Find out more at PCUSA.ORG.

The 120-year old Presbyterian Mission Yearbook for Prayer & Study has become an online-only free digital resource. This move broadens the reach of the book's audience by sharing its inspiring content in a timelier manner and also demonstrates good stewardship of church resources.
The Mission Yearbook dates back to 1892 as a simple calendar of prayer to help women's societies pray for missionaries on designated days. It has the longest history of any denominational mission and prayer book in the United States.
Rev. Carter's sermons are now available as podcasts. Listen here.
The Mission and Justice committee has been busy. Check out their latest activies on the Mission and Justice page.
A great big thank you to everyone who participated in the Worship through Service program on September 25. See the video!
For Children ages 2 - 7 and their parents or grandparents are invited to a new adventure on Sunday mornings: Adventures in the Bible. -more-

Going on vacation? Did you know that you can set up your on-line giving so your pledge goes to the church even if you can't. Click on the big green pledge button and and set up your periodic giving. Youcan also direct a gift to any program. Missions, music, youth programs, OGHS and the Deacon's Fund are just a few of the many programs that can use your gifts.
The Presbyterian Church (USA) is governed by its Book of Order. More than a mere "rule book," the Book of Order is a collection of wisdom, a statement of our church's values, and reasonable operating principles for how the church of Jesus Christ will do its work in the world. The Presbyterian Book of Order is available for downloading here.
Subscribe now to our weekly e-mail newsletter.
---
Happening in June and beyond ...
July 8 - Join us for a bike ride on the Lehigh Gorge Rail Trail. Meet in White Haven ride all downhill 26 miles to Jim Thorpe for lunch, then shuttle back to White Haven. The shuttle is $20.00. Contact the office at 570-586-6306 for details.
The air will be filled with sweet music, as First Presbyterian Church of Clarks Summit offers a free evening concert of classical guitar and flute on Friday, July 21, at 7:00 p.m.

The featured musicians are guitarist Charles Truitt and flutist Ed Wargo. Truitt is a graduate of the Hartt School of Music, Marywood University, and Boston University. A founding member of the Classical Guitar Society of NEPA, he has taught music at Marywood University since 1980.

Wargo is a graduate of Temple University and the Manhattan School of Music. A guest soloist with numerous orchestras around the country, he also serves on the Marywood University music faculty.

The Rev. Bill Carter, pastor of the church, said the program will be a real treat for the community. "We wanted to do something special this summer for our friends, neighbors, and church members. This free concert is offered in memory of Bob Dygert, a wonderful friend who often serenaded our church friends with his guitar."

The concert is open to the community, and an old-fashioned ice cream social will follow the concert in the church's fellowship hall. All are welcome to attend this family-friendly concert.
On Sunday mornings between September and May, children ages 2-7 and their parents or grandparents are invited to a new adventure: Adventures in the Bible. The group will meet in room 111 from 9:00 - 9:45 a.m. Together, we will explore a Bible story, bring the story to life with a craft or activity, and sing songs of praise. If you have any questions, please contact the office at 570-586-6306. We look forward to welcoming you, so all can learn about the Bible and prepare for worship!
Check our Calendar for more upcoming events.