Christian Education
We at First Presbyterian Church value our Christian Education programs. With the coronavirus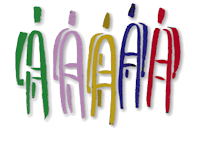 pandemic, our programs may take on a new look.
"Wednesday Adults and Youth Christian Education - W.A.Y."
The Christian Education committee is excited to offer in person classes for the WAY. All classes meet at 6:00 pm each Wednesday. Classes are in person and stream on

.
Post-Easter classes
April 20 -

What is Climate Change and how is it changing?

How do we know these changes are due to human actions? What are some of the predicted and already observed effects? We will also watch a short video and a slide presentation from the new international advocacy and training organization, Climate Ambassadors.
April 27 -

What does the Bible say about the Natural World?

Climate Change is a Poverty Issue. Climate Change is a Threat Multiplier.
May 4 -

Grateful for Fossil Fuels, But Time to Move On?

There Can be a Better Future.
May 11 -

Seriously, what can one person do about Climate Change?